Good Food, Good People, and Good Friends
Remembering Don Knotts
by David M. Story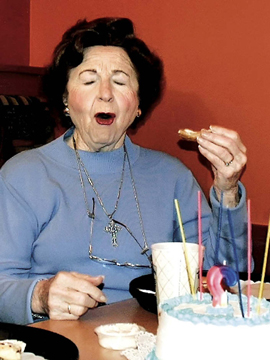 Long before Martha Stewart, there was Don Knott's good friend and homegirl Lee Ferrara Cannon. Retired Auburn University Home Ec instructor Lee Cannon, author of two classic cookbooks, recently took time out to reflect on her five decades as hostess galore of Today's Home on Alabama public television, as well as her and her brother Doc's lifelong friendship with the late Don Knotts.
As with Barney and Andy, the backstory of Don's relationship with the two Ferrara siblings was that, simply, they were friends since childhood. The Ferraras (brother Doc Ferrara is a retired dermatologist in Michigan) grew up in Morgantown, West Virginia, where their Italian immigrant parents, Philomena and Emily Ferrara, owned a grocery store.
It was the illness of Don's father that first took the Knotts family from Fidgety, West Virginia, to Morgantown, home of West Virginia University, from which Don graduated in 1948 (and Lee Ferrara Cannon in 1940).
She applied to a graduate program at the University of Wisconsin on a dare from the principal she was working for at Osage Junior High School in Osage, West Virginia, and wrote to famed nutritionist Dr. Helen Tracy Parsons. Cannon soon received a letter of acceptance from Frances Zull, director of the Home Economics at the University of Wisconsin, with an invitation to work in the lab for Dr. Parsons. Cannon met her husband Bob while there, and when he graduated and left, she went with him, just ten hours short of her advanced degree.
In that region of West Virginia where Osage is located, Cannon's brother Richard "Doc" first started playing banjo when he was given lessons by famous banjoist Eddie Peabody. He and Don first started playing music together in their youths.
"Don used to come to our house constantly," recalls Cannon, who describes Don's family as of humble means, "and he is like a member of the family. He'd come to my mother's store, and she'd give him candy during the Depression. He and my brother entertained all over town for years and years. Don was a good dancer!
Cannon says her mother gave Don "seed" money on two occasions in order for him to leave home and launch his career. The first departure was abortive, so Philomena Ferrara "fronted" him again a second time.
"Don Knotts and I were best friends since middle school and until Don's passing," adds Ferrara. "We started playing music together with our close friend Harvey. This started my musical venture. I don't miss an opportunity to play. Don was a lifelong friend. He loved and endorsed my music!"
It's unanimous between the Ferrara siblings that Doc's biggest fan was indeed Don, whom Cannon describes (no pun intended) as one "good cookie." While Ferrara went on to medical school and Don succeeded in show business, Cannon, author of Menu Celebrations and the Southern Living Quick and Easy Cookbook, was hosting the longest running home show in history on APTV. Today one of her biggest fans is Paula Kerger, president and CEO of PBS.
Barney's Banana Granola Cookies aside, Cannons concludes, "It's not just the food, but having a good mix that makes a for real party. It's the people who make the party good! Our friend Don knew that: good people, good food, good music are the substance of what counts."
Cookbook author and home show host Lee F. Cannon gives a "thumbs up" to BARNEY'S BANANA GRANOLA COOKIES (from Aunt Bee's Mayberry Cookbook):
1/2 cup butter or margarine, softened
1 cup finely packed brown sugar
1 egg
1/2 tsp vanilla extract
1 cup mashed banana
1 and 1/2 cups all purpose flour
1 tsp cinnamon
1/2 tsp baking soda
1/2 tsp salt
1 cup granola
Grease 2 cookie sheets. In a large bowl, cream the butter and sugar at med. speed. Add the egg, vanilla, and bananas, beating until well blended. Stir in granola. Drop by the tbsp onto prepared cookie sheets, spacing about 2 inches apart. Bake in 375 degree oven for 12 minutes. Cool on wire rack. (Reproduced with permission of Jim Clark)
POTATO CHIP COOKIES (These were a favorite of Don's!):
2 cups butter

1 cup sugar

2 teaspoons vanilla

3 ½ cups flour

2 ½ cups coarsely crushed potato chips
Cream butter and sugar; add vanilla. Beat in flour until a smooth but stiff mixture forms. Fold in chips and mix well. Drop by teaspoon onto an ungreased cookie sheet, about 1 ½ to 2 inches apart. Bake at 350° or 25 to 30 minutes. Allow to cool on pan. When cool, sift confectioners' sugar all over. Keep in refrigerator or several weeks. (6-7 dozen.) By Lee F. Cannon (reproduced with author's permission).
FORGOTTEN COOKIES:
These are easy and freeze and keep well. They're delicious, too. Be careful, you really can forget them. Lee once forgot they were in her oven for four days but they were still perfect.
2 egg whites

pinch of salt

2/3 cup of sugar

1 teaspoon vanilla

1 cup chocolate chips

1 cup chopped pecans
Chill bowl and beaters. Beat egg whites until frothy, add salt; continue beating until stiff. Add sugar and beat for 10 minutes. Add vanilla and mix well. Stir in chips and nuts. Drop by heaping teaspoon on a foil-lined cookie sheet. Preheat oven for 10 minutes. Put cookies in oven, turn off heat. Leave for a least three hours or overnight. (3 dozen cookies.) By Lee F. Cannon (reproduced with author's permission).
David Story is author of America on the Rerun: TV Shows that Never Die,
which contains a chapter on The Andy Griffith Show.